International Service Deli
About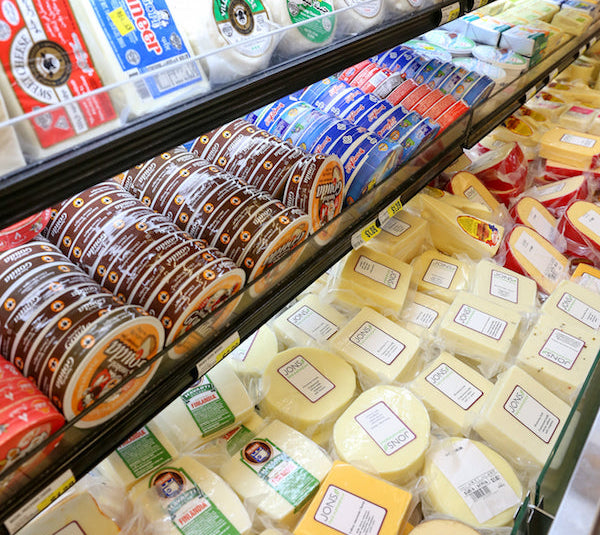 We've always said that JONS serves as a culinary map of greater LA – so it makes sense that our International Service Deli should be one of our stores' busiest hubs. And one of our most esteemed. From exceptional, specialty-cured meats from across Europe and the Mediterranean to hundreds of authentic international cheeses, marinated olives, and gourmet spreads (plus custom sandwiches and platters that combine them!), our International Service Deli offers a phenomenal selection of imported meats, cheeses, prepared foods, specialty items, and sweets – all hand-cut and packaged to your preferences.
At JONS we believe that you can find the key to a city's heart through its stomach (just scroll below to view our product range and see for yourself). With our International Service Deli, we just may have found it. Welcome to our pride and joy.
Deli Meats

Consider a selection from our renowned Service Deli counter – one of the largest in the greater Los Angeles area. Choose to have your deli meats hand-sliced or hand-cut and packaged to your preference! Take a look at the partial list below:
Ham
French style "Jambon"
Russian, Romanian, and Italian style Hams
Black Forest, Honey Cured, and Old English Smoked Ham
Low sodium Ham
Capicolla
Turkey
Foster Farms Honey Cured, Oven Roasted, Hickory Smoked, Salsa, Mesquite, Pan Roasted, and Oil Browned
Foster Farms Turkey Pastrami and Turkey Ham
Foster Farms Low Sodium and No Sodium varieties
Columbus Peppered Turkey
Roast Beef, Corned Beef, and Pastrami
Charlie's Pride Regular and Gourmet Roast Beef
Charlie's Pride London Broil and Italian style Roast Beef
Charlie's Pride Lean Pastrami, Navel Pastrami, and Corned Beef
Sausages
European style Wieners and Knackwurst
Imported Meica German Cured Bockwurst
Romanian style Sausage and Mititei
Russian and Hungarian style Sausage
Hunter Sausage
Salami
Imported Hungarian Pick Salami
Imported Italian Parma Salami
French, Romanian, Canadian, German, Russian, Armenian, and Italian style salamis in so many varieties
Prosciutto, Domestic and Imported
Italian Imported Prosciutto di Parma
American Prosciutto and Prosciutto Halves
Mortadella
Columbus Italian style Mortadella, plain or with pistachios
German and Russian style Mortadella
Mikailian Persian style Mortadella
Mortadella
Columbus Italian style Mortadella, plain or with pistachios
German and Russian style Mortadella
Mikailian Persian style Mortadella
Bologna
Russian and German style Bologna
Veal, Turkey, and Chicken Bologna
Bacon
Canadian, Hungarian, Romanian, and Gypsy style Bacon
Imported Polish Bacon
Mediterranean Dried Meats
Eureka, Ohanyan, Konanyan Basturma and Soujuk, fat or lean varieties
In addition to the items listed above, we also carry many other types and varieties of deli meats. Stop by our Service Deli section and see for yourself!
Cheese

Consider a selection of cheese from our renowned Service Deli counter – one of the largest in the greater Los Angeles area. You don't believe us? Check out the partial list below:
Domestic Varieties
American White and Yellow Cheese, Meunster Cheese, Provolone, Mozarella, Monterey Jack with or without jalapeño
Mild Cheddar Cheese and Swiss Cheese
Apple Smoked Cheddars, Mozzarella, Muenster, Provolone, and Swiss
Kerrygold Dubliner and Irish Cheddar
Edam Loaf, Gouda, and Fontina
Belgio Parmesan and Romano
Gorgonzola, Goat Cheese, Crumbeled Blue Cheese
Imported Feta
French Valbreso Feta
Bulgarian, Danish, Greek, Hungarian, Italian, Armenian Feta
Imported Brie
Ile de France Brie, Blue Brie, and Camembert
Cour Royal Brie
Brie Mirabo with Walnuts
Coeur de Lion Slice Brie
Edelweiss Alpine Brie
Imported Blue Cheese
Danish and German Blue Cheese
French Roquefort
Imported Hard Cheeses
Italian Parmegiano Regiano and Pecorino Romano
Italian Grana Padano
Egyptian Roomi
Gruyere Cheese
Prosciutto, Domestic and Imported
Danish Kefalotiri and Havarti
Italian Mascarpone and Provolone
Halloumi Grilling Cheese
Polish Radamer Swiss
Swiss Jarlsberg
Spanish Manchego
Holland Smoked Gouda
French Madrigal Swiss
We also carry many other varieties of cheese. Stop by our Service Deli section and see for yourself!
Sandwiches & Prepared Foods
Sandwiches
Select your bread – petite French roll or croissant, sliced white or whole wheat, lavash wrap or baguette – and let the fun begin. Choose from among our dazzling range of meats: hand-sliced turkey and ham; divine roast beef, corned beef, and pastrami (as good as any NY deli!), gourmet mortadella, salami, and prosciutto. We'll pile it high, cut it any way you like, and top it with fresh lettuce, tomato, and cucumber. Name your cheese and you're well on your way to crafting the perfect sandwich – custom made for you while you shop. For those on the run, turn to our self-service section, featuring a variety of ready-to-go sandwiches – always sure to hit the spot. Now all that's left to do is to sit back and savor your creation.
Salads
All your favorites are prepared fresh and ready-to-serve: signature tuna and chicken salad (perfect in your custom made sandwich!); classic potato salad and red potato salad with sour cream and dill; Mediterranean stuffed grape leaves and tabouli; marinated mushroom salad and marinated carrots; coleslaw, creamy bowtie pasta salad, and macaroni salad. We're pretty sure that options like these scream for a family picnic. And, with service like ours, you can be ready to go at the drop of a hat. Here's to your endless summer.
Prepared Foods
If hotter fare is what you're craving, look no further than our signature prepared meals. Take home our famous Rotisserie chicken; choose from barbecued or slow-roasted with our special blend of lemon, pepper, and spices. And don't forget to ask about our "Meal Deal" options – the easiest way to pick-up a hot, delicious meal for your entire family, ready in minutes!
Specialty Foods
Olives
Of course, the specialty item par excellence may just be the olive: salty, spherical, and self-contained, perfect savored alone or shared with cured meats, fish, and cheeses. We like to call it the little (culinary) engine that could. In addition to all the usual suspects – Greek kalamata olives; Greek black, and green olives; Sicilian green and cracked olives; Moroccon dry olives, and more – we proudly feature a selection of JONS' signature marinated olives, made fresh daily. Pair yours with a red wine, one of our handmade baguettes, and a fine assortment of deli meats and cheeses (meat and cheese platter, anyone?) – and the only problem you may have is getting your guests to say "goodnight."
Yogurt
Aside from carrying all the national yogurt brands you love, JONS also carries a wide variety of international yogurt, yogurt drinks, and other delicious dairy sides. We offer all types of yogurt based products ranging from Mexican sour cream to Lebanese, Greek, Russian, and Indian style yogurt.
In the mood for a yogurt drink? We've got plenty of brands and flavors for you to choose from, whether you prefer it plain or mint flavored. Care to use yogurt as a dip or spread? We recommend labne as a delicious side dish—drizzle it with olive oil, then sprinkle on dried mint leaves, and enjoy it with toasted pita. Need yogurt to prepare a special dish? We carry all sorts of yogurt that can be used as an ingredient in your favorite soup or other entrees. Our yogurt varieties come in regular, low-fat, or non-fat. Whether you prefer to eat it with a spoon or use it as a dipping sauce or drink it straight out of the bottle, JONS has all of your dairy—and probiotic—needs!
Butters
Fine butter begins many a fine meal; choose from among our selection and you'll be off to a fantastic start – whether you're making apple pie or coq au vin. In addition to superior domestic brands such as Président Butter and Challenge Butter, we carry an assortment of international favorites from Czechoslovakia, Denmark, and England, as well as sumptuous flavored varieties like Irish butter with garlic and herbs and French chocolate butter (so extraordinary it may become your apple pie's secret ingredient!).
Sides and Spreads
When you're looking for an accompaniment of a different kind, try one of our gourmet sides. We carry an assortment of pickled "tourcho" vegetables, hummus, baba ghanoush, and other flavorful dips, as well as Russian and French style mustards and a flavorful garlic spread – the perfect dipping sauce for your rotisserie chicken or sandwich platters. For a one-of-a-kind specialty, indulge in our sumptuous pâtés, flavored with champagne, cognac, or truffles.
Fish & Seafood
Indulge in caviar and cured fish from around the world – all without leaving LA! Our selection features a stunning variety of hot and cold smoked fish from Europe and abroad, including: Latvian herring, Russian dry fish, Norwegian style lox, Scottish style salmon, Atlantic smoked fish, and Alaskan smoked salmon, as well as other selections of herring (pickled, smoked, in sour cream), mackerel (hot and cold smoked), smoked trout, white fish, lox trimmings, and red caviar!
Coffees & Sweets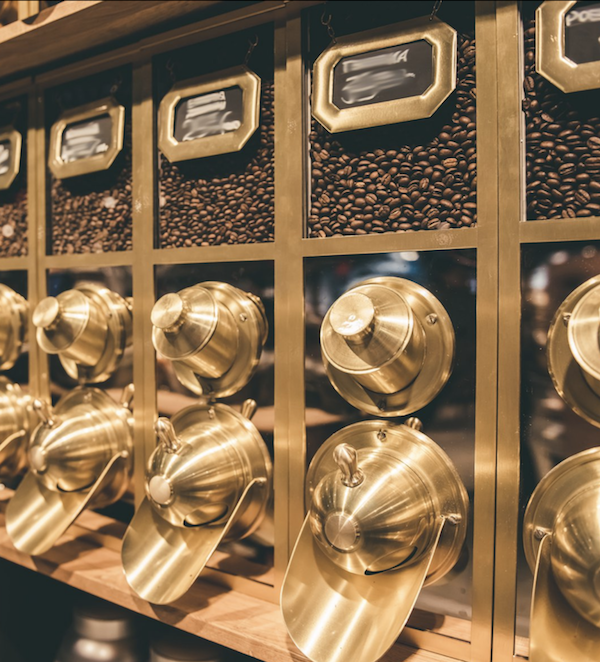 Coffee
Only at JONS can you combine your favorite coffees into a custom blend – in any proportion you wish, whether with whole beans or freshly ground, in dark or medium roasts. One-quarter Columbian and three-quarters Armenian? No problem. Three-eighths Brazilian and five-eighths Columbian? That's fine too. After all, why should a diversity of tastes end with a single roast?
Dried Fruit and Sweets
Talk about endings: we offer a range of tantalizing, unique items that remind many of home and introduce countless others to new favorites. Popular selections include our "lokum" and "sweet sujuk," delicate treats filled with dried fruits and nuts, and our own signature fruit-and-nut blends, both savory and sweet. For those with an even sweeter tooth (who can blame you?), we offer rich Russian chocolates, glazed fruit, quince paste from Spain, and hand-sliced halva, in flavors such as pistachio, chocolate, vanilla, marble, and sunflower. Serve these selections at an evening's end, and count your night complete. From all of us at JONS, until next time.
---
Did you know?
JONS hits the spot for delicious, convenient meals just try our "Meal Deal" options! Opt for 24 oz. of our famous BBQ chicken, plus 1 lb. of Potato Salad, Macaroni Salad, or Coleslaw (or two selections at ½ lb. each, if you prefer), plus 4 Kings Hawaiian Bread Rolls. Looking for a different flair? Try our International Meal Deal, with 24 oz. BBQ chicken, 10 oz. Sabra Hummus, 8 oz. International Pita Bread, and your choice of authentic 1-2 oz garlic spread. Sure to leave everyone at your table satisfied.